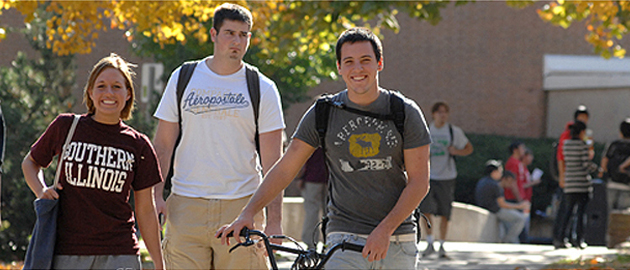 Current Students
You know your goals.  We will help you reach them. Relying your initiative and effort, you will be able to take your professional media or arts career in the direction you decide upon with the support of our award-winning faculty and numerous hands-on opportunities.  Our academic advisors  will help steer you towards achieving success both in and out of the classroom, offer possible scholarship  advice.  Our career services coordinator  will help point you to internships  through the College's Studies Program, where you can gain academic credit, up-close experience, and networking opportunities.  A spring break extern) program established by the SIU Alumni Association is also available to help you enhance your portfolio.
But with that hard work in the classroom you will also have the opportunity to enhance your leadership skills in numerous registered student organizations in both the College and throughout campus.  You also have the opportunity to benefit from our on-campus Living Learning Communities (LLC) in Kellogg Hall  a dedicated residence hall for MCMA students to share experiences outside of the classroom.
Here you also work with state-of-the-art equipment, and have the advantage of computer support, and student work opportunities both within the College and throughout campus.
Scholarships are financial aid awarded to a student based upon characteristics other than need. Grades and academic ability, talent, and membership in a group or organization can all be criteria for awarding scholarships. Use free Internet scholarship search sites along with the SIU Scholarships database at scholarships.siu.edu to research potential scholarships.
Undergraduate students who wish to apply for MCMA scholarships (except the two noted below) must fill out the online general scholarship application posted on scholarships.siu.edu. After submitting the application you will be able to read criteria for scholarships for which you are eligible and answer supplementary questions, if applicable. MCMA Scholarships in this online system include the Marmaduke, the Brian Hunt NY Internship Scholarship, the Foote Scholarship for Off-Campus Study, the MCMA New Student Scholarship for Freshman and Transfer Students, and the Scholarship for Continuing Students, amongst others. These scholarships generally will have a deadline of the last Friday in January.