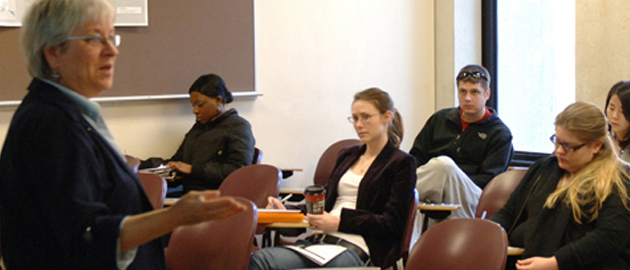 Classrooms
The classrooms of the Department of Radio, Television, and Digital Media are equipped with the latest in software and equipment. RTD has the additional advantage of being housed in the College of Mass Communication and Media Arts, which has numerous classrooms and lab areas which benefit all students. In addition, the region's public TV and radio stations are located in the building and those facilities provide many hands on learning environments.
The New Media Center is home to 3 classrooms, all equipped with the latest in Mac computers and software. Classroom 1046 seats about 40 students and is frequently used for screening student work. Room 1205 in the Journalism lab area is equipped with Mac computers, which will boot into Windows to enable faculty to teach broadcast news software.
Several classes are conducted in the TV studios - so students get direct hands on production experience. The radio and TV newsrooms are professional environments where students learn the latest in electronic journalism. Room 1016 is a sophisticated audio lab where classes are taught and students can work on their own projects.